Dry cleaning and ironing are important services that ensure our clothes look original and well-maintained. While many people can handle basic laundry at home, certain fabrics and garments require professional care. That's where the best dry cleaning and ironing companies come in. In Dubai, one such reputable company is Fresh Scent Laundry (freshscentlaundry.com). In this article, we will explore the services provided by Fresh Scent Laundry and why they are considered the best in the industry.
Introduction
Dry cleaning involves the use of solvents to remove stains and dirt from clothes, without the need for water. It is particularly suitable for delicate fabric that may shrink or get damaged in traditional washing methods. Ironing, on the other hand, is the process of using heat and steam to remove wrinkles and creases from clothing, leaving them looking neat and presentable.
Professional dry cleaning and ironing services offer several advantages over conventional laundry methods. They provide expertise in handling different types of fabric, use specialized equipment, and ensure garment are clean thoroughly. Additionally, these services save time and effort for busy individuals, allowing them to focus on other priorities.
Choosing the Best Dry Cleaning & Ironing Company in Dubai
When selecting a dry cleaning and ironing company, it is crucial to consider a few factors to ensure the best service and results.
Researching reputable companies is the first step. Look for companies with a good track record and positive customer reviews. Reliable recommendations from friends, family, or colleagues can also be helpful.
Reading customer reviews and testimonials gives valuable insights into the experiences of previous clients. Pay attention to factors such as quality of service, reliability, and customer satisfaction.
Checking for eco-friendly practices is another important consideration. Companies that prioritize sustainability and use environmentally friendly solvents and practices contribute to a greener future.
Services Offered by Fresh Scent Laundry
Fresh Scent Laundry is a leading dry cleaning and ironing company in Dubai. They offer a wide range of services to cater to different customer needs.
Their dry cleaning services cover a variety of garments, including suits, dresses, formal wear, and delicate fabrics like silk and cashmere. The company ensures that each garment receives individual attention and care to maintain its quality and appearance.
In addition to dry cleaning, Fresh Scent Laundry provides exceptional ironing services. Their skilled professionals use advanced techniques and equipment to deliver wrinkle-free and perfectly pressed clothes.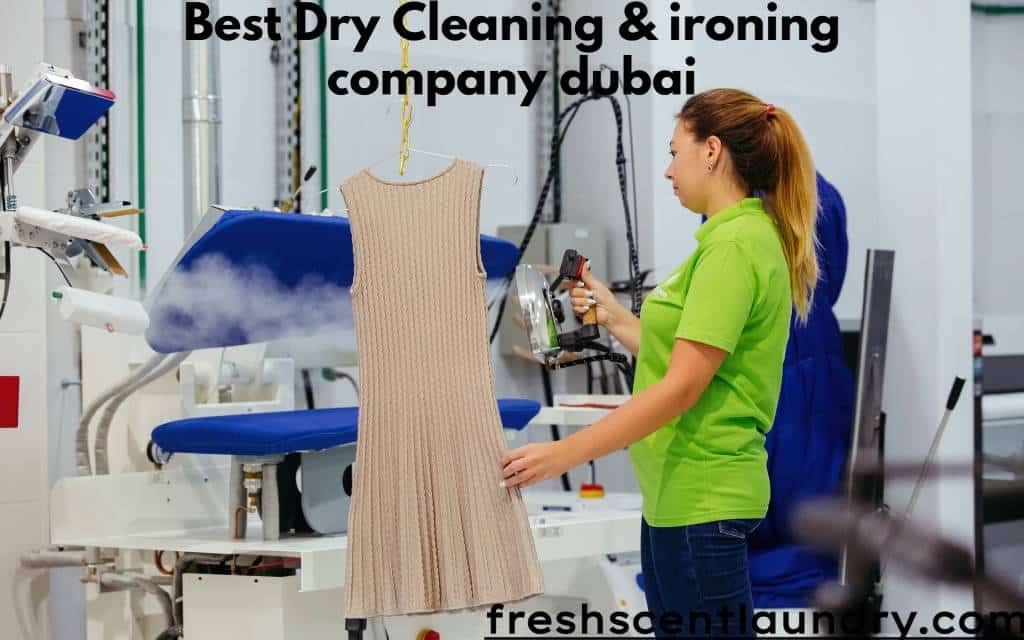 Healthy dry cleaner company dubai
When it comes to dry cleaning, it's not just about removing stains and dirt from our garments. It's also about ensuring a hygienic and healthy cleaning process. Regular dry cleaning helps eliminate allergens, bacteria, and other harmful substances that may accumulate on our clothes over time. Choosing a dry cleaner that values health and cleanliness is crucial for maintaining not only the appearance but also the well-being of ourselves and our loved ones.
The Fresh Scent Laundry Difference
Fresh Scent Laundry is committed to providing a healthy and eco-friendly dry cleaning experience. They have implemented various practices and standards to ensure the well-being of their customers and the environment.
State-of-the-Art Equipment and Processes
Fresh Scent Laundry invests in state-of-the-art dry cleaning equipment and follows advanced processes to deliver high-quality cleaning while minimizing the use of harsh chemicals. Their equipment effectively removes stains and dirt, leaving clothes fresh, clean, and free from harmful substances.
Non-Toxic and Eco-Friendly Solvents
One aspect that sets Fresh Scent Laundry apart is their use of non-toxic and eco-friendly solvents in the dry cleaning process. These solvents are gentle on fabrics. Ensuring that your clothes maintain their quality while avoiding exposure to harmful chemicals commonly found in traditional dry cleaning methods. By opting for healthier cleaning solutions, Fresh Scent Laundry prioritizes the well-being of their customers and the environment.
Clean and Sanitized Facilities
Fresh Scent Laundry maintains clean and sanitized facilities to provide a safe and healthy environment for both their staff and customers. They follow strict hygiene protocols to prevent the spread of bacteria and maintain the cleanliness of the entire dry cleaning process.
Professional Expertise and Care
The team at Fresh Scent Laundry consists of skilled professional who are well-trained in handling different fabric and garment. They understand the specific care requirement for each item and ensure that proper techniques are employ to maintain cleanliness and hygiene standards.
Convenient and Contactless Services
In light of recent events, Fresh Scent Laundry has adapted its services to prioritize the health and safety of its customers. They offer convenient pickup and delivery options, allowing customers to access their services without leaving the comfort of their homes. By providing contactless services, Fresh Scent Laundry ensures a safer experience while maintaining their commitment to cleanliness and hygiene.
Opting for Fresh Scent Laundry as your dry cleaner in Dubai offers several benefits:
Healthier and Cleaner Clothes: Fresh Scent Laundry's focus on health ensures that your clothes are free from allergens, bacteria, and other harmful substances. Promoting a healthier lifestyle for you and your family.
Gentle on Fabrics: With their use of non-toxic and eco-friendly solvents. Fresh Scent Laundry ensures that your clothes receive the utmost care and maintain their quality and longevity.
Convenience: Their pickup and delivery services make dry cleaning hassle-free and convenient. Allowing you to save time and effort while still enjoying the benefits of a professional dry cleaner.
Peace of Mind: Fresh Scent Laundry's commitment to cleanliness and hygiene standard give you peace of mind. Knowing that your garment are in safe hand and will be returned to you fresh, clean, and sanitized.